Shooting clay targets with a shotgun is loads of fun. There's nothing quite like the rush you feel when a clay pigeon turns to dust in the sky after being hit by your shot. Let's take a look at the three main games people shoot, what it takes to get started in each.
Trap is the most basic of the three games and has the largest number of participants in the U.S. It's fairly easy to find a trap field near where you live. Depending on the facility, you'll find one trap house or several. The trap house is a low, squat structure in which there is a target thrower. Shooters begin each round shooting from a line 16 yards behind the trap house. As the round progresses, shooters will move left to right to five different shooting stations in order to engage five targets from each station at various angles. As the shooter improves in the game they are given a yardage handicap starting at the 18 yard line, with the very best shooters all the way back at the 27 yard line.. Score is kept with a point awarded for each clay target hit. A perfect round is 25 out of 25. Most competitive events will throw 100 (4 rounds of 25) or 200 (8 rounds of 25) targets to determine the champion, sometimes these also end in a shoot-off if multiple shooters tie. All you need to get started are shooting glasses, ear protection, a shotgun and a box of shells.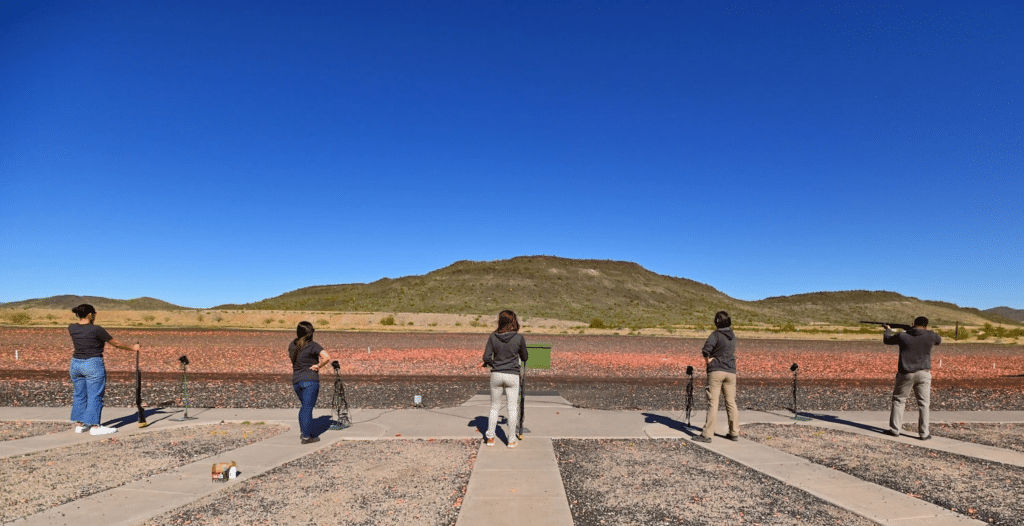 Professional competition shooter and shooting coach Theo Ribbs III calls skeet, "The second most difficult clay shooting game." This is because participants engage fast-moving targets from eight different shooting stations arranged in a semi-circle so as to have clays flying at various angles.Targets are launched from two tower like structures called the low house and high house, indicative of the target elevations. The gear you need to get started is the same you would use for trap An additional piece of gear that can be helpful in both trap and skeet are choke tubes, which are devices that modify the pattern of shot based on a shooter's preference or needs.
Most guns today have choke tubes that can be changed. Think of a hose, if you pinch the hose the water goes farther. Trap is typically shot with tighter chokes as the target is nearly 40 yards away by the time the trigger is pulled. Skeet is shot with more open chokes which yield a larger pattern as the targets are usually less than 25 yards from the shooter.
Trap and skeet are alike in that matches are often decided by one or two misses. The quest is to break all targets presented in a match, commonly referred to as a perfect straight. While not exactly common, this does happen quite often – more so than a golf hole-in-one or perfect game in bowling – and it's what every shooter strives for. This makes trap and skeet a game of focus and shooting skill. Tom Bryant, an award-winning shotgun competitor and multi-term president of the Sidney Shooting Park in Sidney, Nebraska, says, "Every miss that occurs on a trap field is a miss by eight inches – the distance between your ears."
"Every miss that occurs on a trap field is a miss by eight inches – the distance between your ears."

Tom Bryant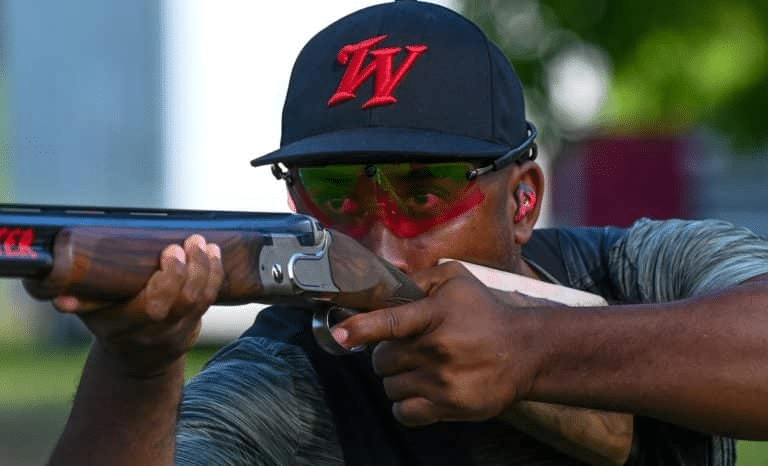 Ribbs considers sporting clays the most challenging of the shotgun sports. "A perfect score is rarely shot in sporting clays," he says. "And that's why I'm a professional sporting clays shooter. Because of how difficult it is to be perfect and I'm chasing that day after day." Sporting clays is the shotgun sport most like hunting. You're teamed with one to four other shooters to form a squad, and the squad walks the course, not unlike one walks a golf course. Along your way, you stop at various shooting stages and are presented targets launched at various angles, elevations, speeds and sometimes even sizes. Some targets are called rabbits and bounce along the ground, simulating a fleeing hare. Sporting clays is a sport that offers good exercise and camaraderie in addition to shooting challenges. It also keeps skills sharp for hunting season. In addition to the equipment you'd use for trap or skeet, you'll need comfortable walking shoes and a cap to shade your eyes at shooting stations where sun can be a factor.
The best way to get started in any of these sports is to visit your nearest trap range or shooting club. Watch people shoot. See what kinds of firearms and gear they use. And don't be afraid to ask questions. You'll find those who participate in shotgun sports a friendly bunch, eager to welcome new shooters and help them get started in shooting sports.
Most people involved in shotgun sports are content to take part in local shoots at nearby facilities, but some will take their sport to the next level by competing at the various levels the sport offers. These would be local, state, regional, national and international levels of competition. Consider joining organizations such as the Amateur Trapshooting Association (ATA), National Skeet Shooting Association (NSSA) or National Sporting Clays Association (NSCA), which offer all kinds of information to get you started. Such organizations exist to support competitive shooting sports at all levels and can connect you with events, contest locations and other shooters in your area.
From occasional weekend competition at the local range with family and friends to traveling around the world to meet and shoot with the best of the best, you alone will determine how far you want to take your involvement in the shooting sports. At Shoot United, we're here as a resource for you, so let us know how we can help you get started.
Interested in Learning More About Competition Shooting? Check Out Our Series of Competition Videos Below!